Jul
19 - 20
, 2019
2019 GK U.S. Classic
Presented by USA Gymnastics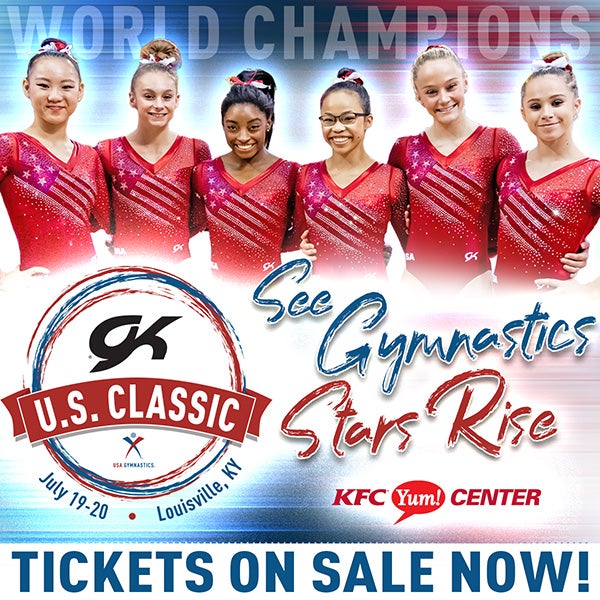 Jul

19 - 20

, 2019

Doors will open 1 hour prior to each event.

Groups of 10 or more, download this Group Order Form for discounted tickets. Gym clubs order here, download the Gym Club Order Form or contact Kelsie at 502.690.9029 for discount offers.

All-Session: $129, $99, $89, $79 Single-Session: $59-$20
On July 19 & 20, 2019, the GK U.S. Classic will make its first appearance at the KFC Yum Center in Louisville, Ky. The GK U.S. Classic features athletes competing on the junior and senior levels and is the last opportunity for female gymnasts to qualify for the U.S. Championships, the national championships for men's and women's gymnastics. Gymnasts who have already qualified to nationals use the GK U.S. Classic as a final tune-up for the U.S. Championships. In addition, the GK Hopes Championships, which features young, aspiring female gymnasts who are just below the elite level, is held the day before the GK U.S. Classic. All-session tickets that include both the GK U.S. Classic and GK Hopes Championships are on sale now.
Group Sales
For groups of 10 or more please fill out a Group Order Form or Gym Club Order Form and email it to Kelsie Hall, order online or call 502.690.9029 to place your order over the phone. Gym clubs make sure to ask about the incentive program when ordering.
Early Bird Deadline is Friday, May 10, 2019
Group Price Deadline is Friday, June 28, 2019
For questions about group pricing contact Kelsie Hall.
Print