Sep
13
, 2019
Backstreet Boys "DNA World Tour"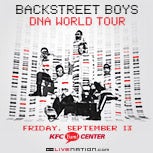 Sep

13

, 2019

7:00 PM

$175, $149.50, $109.50, $78.50, $49, $29
The Backstreet Boys analyzed their individual DNA profiles to see what crucial element each member represents in the group's DNA. Watch the video here to see how their individual strains, when brought together, create the unstoppable and legendary Backstreet Boys.
Beginning in spring 2019, the group will set off on the DNA World Tour - their biggest arena tour in 18 years.
Every ticket purchased to the North American headlining tour will include one (1) physical copy of their 10th studio album, DNA. Learn more about the album/ticket bundles here.
"When this group started 26 years ago – and through all the highs and lows of our career – we've had to learn it wasn't about us as individuals but about what's best for the group," says Howie D.
"That's what I love about this album," adds Kevin Richardson. "We were able to bring all of our influences and styles into one coherent piece of work. These songs are a great representation of who we are as individuals and who we are as a group. It's our DNA. We're really proud of that."
"The journey is ongoing with us and there is so much left to do," says Brian Littrell. "We're living the next chapter that hasn't been told yet, and that's exciting."
Print