Apr
19
, 2018
Jeff Dunham "Passively Aggressive"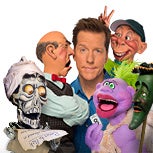 Apr

19

, 2018

6:00 PM

$48.50
Record-breaking, global comedy superstar, Jeff Dunham, is bringing his cast of characters on the road this fall through spring 2018 as America's favorite ventriloquist tours North America on his 60-city Passively Aggressive tour.
Dunham just released his latest standup special, Jeff Dunham: Relative Disaster, on Netflix this September. The special features Dunham along with his ill-behaved and slightly demented posse of characters for a gleeful skewering of family and politics. Dunham and his famous cohorts Walter, Achmed the Dead Terrorist, Bubba J, and Peanut also consider what a new member to their already dysfunctional family could mean, putting the 'relative' in Relative Disaster.
Print