Apr
27
, 2018
Jose Sulaiman World Invitational
Presented by The Real Deal Boxing & Top Knotch Boxing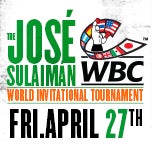 Apr

27

, 2018

6:00PM

$250, $200, $150, $125, $80, $55, $35
Louisville, Kentucky will play host to the first round of the 'Jose Sulaiman World Invitational Tournament' at the KFC Yum! Center on Friday, April 27 as the matchups for the first round were announced by Evander Holyfield's The Real Deal Boxing in association with the World Boxing Council and Louisville's Top Knotch.
Boxing fans from around the world have ranked each of the eight welterweights chosen for the tournament; their votes have formulated the first-round matchups. Each fight will be scheduled 10 ten rounds.
#1 ranked FELIX DIAZ, (19-2-0, 9 KO's) of Santa Domingo, D.R. will clash with #1 alternate FRANCISCO SANTANA, (24-6-1, 12 KO's) of Santa Barbara, CA by way of Jalisco, Mexico.
#2 ranked CHRIS VAN HEERDEN, (25-2-1, 12 KO's) of Johannesburg, South Africa, faces #7 ranked TIMO SCHWARZKOPF, (18-1-0, 10 KO's) of Stuttgart, Germany.
#3 ranked FREDRICK LAWSON, (26-1-0, 21 KO's) battles #6 ranked BAISHANBO NASIYWULA, (13-1-1, 6 KO's), of Urumqi, China.
#2 ranked alternate PADDY GALLAGHER, (13-3-0, 8 KO's) of Belfast, Ireland #5 ranked BRAD SOLOMON, (27-1-0, 9 KO's), of Douglasville, Georgia
Print