Mar
18
, 2018
NCAA Women's Basketball Second Round
No. 1 Louisville vs. No. 8 Marquette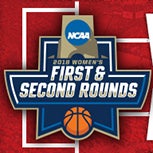 Mar

18

, 2018

11:00AM

$21, $14
No. 1 Louisville takes on No. 8 Marquette at noon Sunday, March 18th in the second round of the NCAA Women's Basketball Tournament.

$21 single-session lower level adult
$14 single-session lower level youth/senior/college

Fans must purchase tickets through Ticketmaster, as this is an NCAA event. The customer service number for Ticketmaster is 1-800-653-8000.
Print