Jan
12 - 14
, 2018
The Harlem Globetrotters 2018 World Tour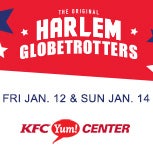 Jan

12 - 14

, 2018

One hour before each game.

$128.50, $77.50, $63.50, $51.50, $39.50, $29.50
The Harlem Globetrotters known for their one-of-a-kind family entertainment will bring their 2018 World Tour to the KFC Yum! Center on Friday, January 12 at 7:00 PM and Sunday, January 14 at 2:00 PM to take on their long-time adversaries the Washington Generals.
The Globetrotters will face a revamped Washington Generals team which recently launched a more competitive profile, making an appearance in The Basketball Tournament over the summer. The tournament-tested team is looking to snap a 47-year losing streak against their world famous rivals during their 2018 tour.
Group Sales
For information on group tickets, please contact Harlem Globetrotters at 678.497.1900.
Print