Where to Stay
A bustling downtown Louisville surrounds the KFC Yum! Center. If you are coming here for a show, we suggest you make a trip of it! With a wide range of unique restaurants, boutique-style shops and a plethora of museums and art galleries, staying close to the KFC Yum! Center will provide you access all day or all weekend to a world of activities.
The KFC Yum! Center's official hotel partner, The Galt House Hotel, is connected to the arena via pedway and offers newly renovated rooms, several popular eateries, waterfront views and access to downtown Louisville's entertainment, bourbon and museum districts.
It's easy to plan your stay as there are many hotels near the arena. Check out our full list of accommodations.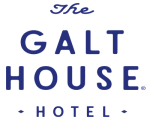 We are Legendary Louisville®. As the Official Hotel of the KFC Yum Center, we welcome you to experience the hype of Louisville firsthand. The Galt House Hotel is next to the KFC Yum! Center and the ideal place to place to enjoy the best of Louisville. Heading to an event or departing for your next adventure? The KFC Yum! Center's Skywalk connects you to the excitement at the hotel. Discover the hotel's six restaurants and bars, including two on the Urban Bourbon Trail, parking and guest rooms. The Galt House Hotel is the perfect place to meet up or rest up after any event. Book your stay!