Jun
19 - 23
, 2013
Cirque Du Soleil: Quidam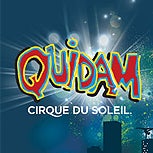 Jun

19 - 23

, 2013

Doors will open approx. an hour and a half before the start of the show.

Regular ADULT NON-PEAK prices: $94/$74/$54/$38

Regular ADULT PEAK (Friday night and both Saturday performances):$99/$79/$59/$43

Children ages 2-12: $76/$60/$43/$31 for Non Peak and $81/$65/$48/$36 for Peak
Students/Seniors over 65 and Military are $85/$67/$48/$34.50 and ONLY available for NON PEAK


$38 - $99
Quidam had its world premiere in Montreal under the Big Top in April 1996. Since then, the production has
toured on five continents and been experienced by millions of people. In December 2010, Quidam embarked on a new journey, performing the same captivating production, but now in arenas throughout North America. The international cast features 52 world‐class acrobats, musicians, singers and characters.
Young Zoé is bored; her parents, distant and apathetic, ignore her. Her life has lost all meaning. Seeking to fill the void of her existence, she slides into an imaginary world—the world of Quidam—where she meets characters who encourage her to free her soul.

Group Sales
Type: Group Prices:
Group Non Peak Shows (6/19, 6/20, 6/23):
$85, $56.50, $40.50, $29.25
Peak Shows (6/21, 6/22):
Adults - $99, $79, $59, $43
Kids - $81, $65, $48, $36
To order, visit: www.kentuckycenter.org/grouptickets.
Print