May
19 - 20
, 2013
Dalai Lama "Engaging Compassion"
Louisville welcomes His Holiness for a Public Talk and Teaching Event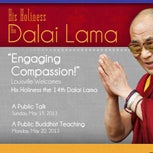 May

19 - 20

, 2013

*Doors open an hour prior to the event

Public Talk tickets range from $5 to $100, Public Teaching tickets range from $35-$75
Louisville's Tibetan Buddhist Center, the Drepung Gomang Institute, and the City of Louisville will host His Holiness the Dalai Lama May 19-21, 2013.
The two-day event, called "Engaging Compassion", will begin on Sunday, May 19 at the YUM! Center when the Dalai Lama will present a public talk to an expected crowd of 16,000.
The Dalai Lama has been the recipient of the Nobel Peace Prize and the Congressional Gold Medal and is known around the world as a spokesman for the non-violent, peaceful and compassionate resolution of human conflict.
Print