Sep
25
, 2014
Eric Church "The Outsiders World Tour"
with special guests Dwight Yoakam and Brothers Osborne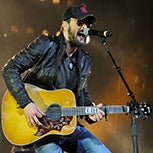 Sep

25

, 2014

5:30 p.m.

$59.50, $45, $35, $25
Hailed as a top entertainer by The New York Times, Rolling Stone, SPIN Magazine, and more, Church will bring his rip-roaring attitude when he performs at the KFC Yum! Center September 25. He will also visit other top venues around the country, many of which he visited as part of his previous headlining arena tour, The Blood, Sweat & Beers Tour—which Pollstar named a Top Tour of 2012.
While The Blood, Sweat & Beers Tour employed a succession of backdrops as the focus of the show, Church's The Outsiders World Tour will use a much more high tech design and will offer fans a 360° view of the entertainer and his band.
Church's current album, The Outsiders, debuted at No. 1 on the Billboard Top 200 Albums Chart and the Billboard Country Albums Chart earlier this year, and his current hit single "Give Me Back My Hometown," is Top 5-and-rising. "Eric Church is working on a level that few other country artists of his generation can touch," said Ken Tucker at NPR Music in his review of the album, continuing, "Shrewd, defiant, sly and funny, Eric Church has succeeded in what he set out to do: He's using the power he's accrued from making hit records to make exactly the kind of album he wants, heedless of industry approval. And this is how good he is: Now he'll go out and — through the singles he'll release, the touring he'll do and the videos he'll make — probably turn this personal project into a big commercial deal. The Outsiders deserves nothing less."
The Outsiders is the follow-up to Church's Platinum-certified album Chief, (named the 2012 Album of the Year by both CMA and ACM, and GRAMMY-nominated for Best Country Album) which featured five Top 20 singles: "Homeboy" (certified Platinum for sales in excess of one million singles); the Top 10 "Like Jesus Does" and the Top 5 "Creepin'" (both certified Gold for sales in excess of 500,000 singles each); and two No. 1 hits "Drink in My Hand" (certified Platinum) and "Springsteen" (certified Double Platinum for sales in excess of two million singles). Church's debut album, Sinners Like Me (2006) and his sophomore album Carolina (2009) are both RIAA Gold-certified. Carolina had three hit singles: the Top 10 "Hell on the Heart" as well as Top 20 hit "Smoke A Little Smoke" and Top 10 smash "Love Your Love The Most," which were both certified Gold. Sinners Like Me spawned three Top 20 singles: "How 'Bout You," "Two Pink Lines," and "Guys Like Me."
Print