Nov
30
, 2013
Jimmy Buffett and the Coral Reefer Band "Songs from St. Somewhere Tour 2013"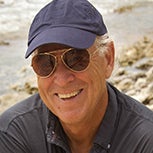 Nov

30

, 2013

7:00 p.m.

$26, $76, $136
Jimmy Buffett and the Coral Reefer Band return to KFC Yum! Center for a night of fin-tastic music and fun on Saturday, November 30 at 8:00 p.m. as part of Jimmy Buffett's "Songs From St. Somewhere" Tour 2013.

Local Parrotheads won't want to miss their chance to soak in the full Margaritaville experience.

Jimmy recently released a new record, titled Songs From St. Somewhere, on Mailboat Records, which debuted at #4 on Billboard's Top 200 albums the week of September 7th. The album, with 15 new songs plus a bonus track, was recorded this spring in various locales including Key West, Nashville, Miami, St. Barts and London. "Too Drunk To Karaoke", the first single, is a duet with Toby Keith and the video was shot in Nashville. Jimmy has been performing this song, as well as "I Want To Go Back To Cartagena", "Somethin' 'Bout A Boat" and "Oldest Surfer On The Beach" on the current tour.

Print