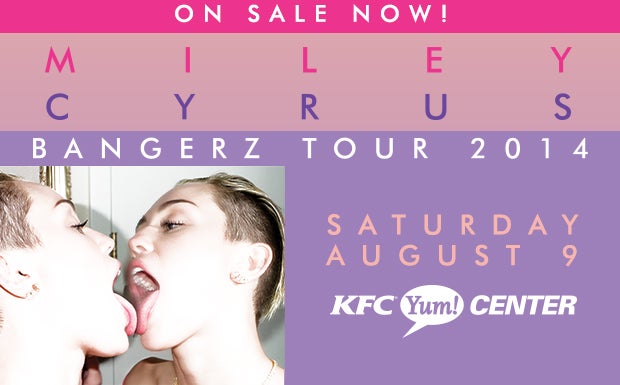 Miley Cyrus "BANGERZ TOUR"
With special guest Lily Allen
Event Details
Global superstar Miley Cyrus announced that her highly anticipated BANGERZ TOUR will visit 38 cities throughout the United States and Canada including a stop in Louisville, Kentucky at the KFC Yum! Center on Saturday, August 9. Tickets on sale now.
Miley's BANGERZ TOUR supports the release of her album, Bangerz, on RCA Records. Bangerz debuted at #1 on both the Billboard Top 200 Album chart and the Digital Album Charts with over 270,000 albums sold. Additionally, during release week, Bangerz hit #1 on iTunes in over 70 countries. "Wrecking Ball" hit #1 on the Billboard Hot 100 and stayed there for two weeks. It became Miley's first Billboard Hot 100 #1 and her fastest-flying top 10 on Radio Songs.

"Wrecking Ball" also hit #1 on Spotify where it reached the highest streams ever for any track in the U.S. beating the next highest week by nearly 500,000 plays. This exciting news came just two days after her music video for "Wrecking Ball" became the fastest music video ever to reach CERTIFIED status, VEVO's milestone for videos delivering 100 million views in only 6 days. Cyrus shattered the previous record which she held for "We Can't Stop," which was CERTIFIED by VEVO just 37 days after it premiered.

Bangerz has been getting rave reviews including Entertainment Weekly calling it "…utterly fresh, a pop blitz from a hip-hop blueprint, and proof that Miley won't settle for just shocking us." US Weekly declared it "the year's most titillating pop explosion" awarding the album "4 stars (out of 4)."