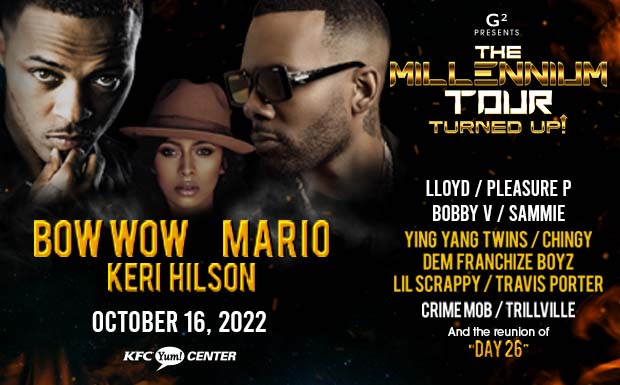 BACK BY POPULAR DEMAND, G2 PRESENTS THE MILLENNIUM TOUR: TURNED UP! RETURNS FOR A 24-CITY TOUR WITH HEADLINERS BOW WOW, MARIO, & KERRI HILSON
Presented By G-Squared Events And The Black Promoters Collective, The Tour Also Includes Sets By Lloyd, Pleasure P, Bobby V, Sammie, Ying Yang Twins, Dem Franchize Boyz, Crime Mob, Travis Porter, Lil Scrappy, Trillville, Chingy, and the reunion of Day 26
Louisville, KY (August 16, 2022) – Said to be "a revue-style, all-killer-no-filler procession of R&B and hip-hop acts that came to prominence around the turn of the millennium," by Keith Spera of the New Orleans Times-Picayune, G2 Presents The Millennium Tour: Turned Up!, presented by G-Squared Events and The Black Promoters Collective (BPC) is back with headliners Mario, who proved he is still one to watch with this year's Verzuz, Bow Wow, a mainstay and crowd favorite, and R&B starlet Kerri Hilson performing in 24 cities, with a stop at the KFC Yum! Center in Louisville, Ky. on Sunday, October 16, 2022.

The highly coveted brand must-see tour dates will include performances by Lloyd, Pleasure P, Bobby V, Sammie, Ying Yang Twins, Dem Franchize Boyz, Crime Mob, Travis Porter, Lil Scrappy, Trillville, Chingy, and the reunion of Day 26.

Before offering to the general public, The Millennium Tour tickets go on sale to the general public on Friday, August 19 at 10 am local and range from $59.50 to $149.50. Tickets can be purchased at the KFC Yum! Center box office or online at ticketmaster.com.

"It is a pleasure to continue the legacy of The Millennium Tour with superstars Bow Wow and Mario. Both artists exemplify the greatness of music coming out of that era and will put on a show that excites as they have proven to deliver every single time," states G2 Founder and The BPC Co-Founder and CEO Gary Guidry.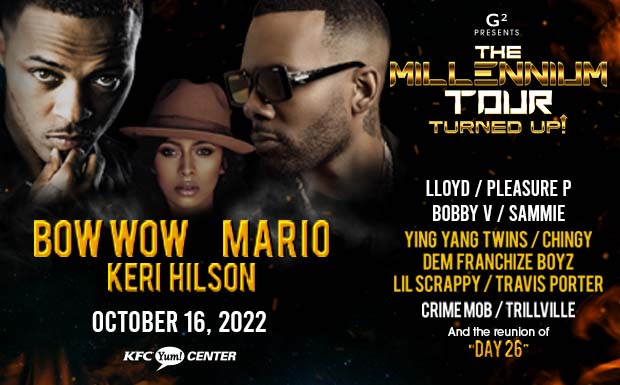 Featuring Bow Wow, Mario, Keri Hilson, Lloyd, Pleasure P, Bobby V, Sammie, Ying Yang Twins, Dem Franchize Boyz, Lil Scrappy, Travis Porter, Crime Mob, Trillville, and the reunion of Day26