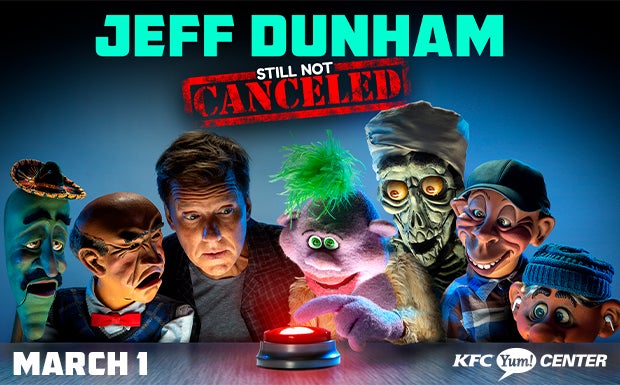 COMEDY ICON JEFF DUNHAM ANNOUNCES HIS "JEFF DUNHAM: STILL NOT CANCELED" TOUR
Louisville, KY (November 7, 2022) – For decades, comedian Jeff Dunham and his somewhat- inappropriate-proteges, Peanut, Walter, José Jalapeño, Bubba J. and Achmed the Dead Terrorist, have entertained fans and filled arenas across the U.S. and the world with their multiple, blockbuster tours and record breaking comedy specials. Dunham and his cohorts will set out for the "Jeff Dunham Still Not Canceled" tour with a stop at the KFC Yum! Center in Louisville on March 1, 2023.

Tickets go on sale to the general public beginning Monday, November 14 at 10:00 a.m. local time and will be available at the KFC Yum! Center box office and ticketmaster.com.

With standing ovations across the world, 3.6 million YouTube subscribers and 11 million Facebook followers, Dunham has become arguably the most successful comedian over the past three decades. Named Billboard's Top Comedy Tour three years in row, cited by Forbes as the third highest paid comedian behind Jerry Seinfeld and Chris Rock and profiled in virtually every publication, platform and late night variety show, including the Los Angeles Times, ABC's Nightline, Variety, The New York Times, People, The Today Show, The Tonight Show and Late Night with David Letterman, Dunham's show is sure to entertain.

For more information on upcoming events at the KFC Yum! Center, visit kfcyumcenter.com.
IMPORTANT EVENT INFORMATION
Show Name: Jeff Dunham: Still Not Canceled
Show Date/Time: Wednesday, March 1, 2023 at 7 PM
Location: KFC Yum! Center | 1 Arena Plaza | Louisville, KY 40202
Ticket Prices: $52.50
How to Purchase Tickets: Tickets on sale beginning Monday, November 14 at the KFC Yum! Center box office and Ticketmaster.com. The box office is open Monday, Wednesday and Friday from 10 am to 4 pm.