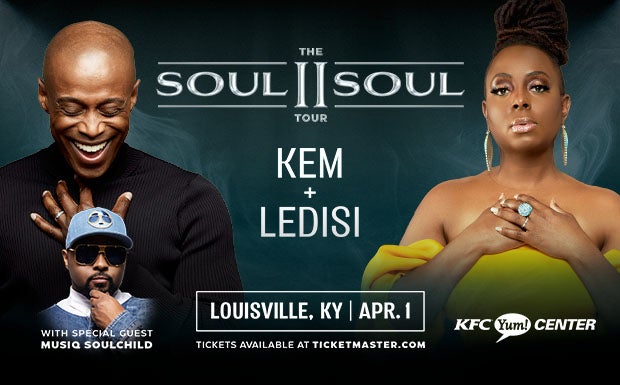 KEM & LEDISI ANNOUNCE THE SOUL II SOUL TOUR COMING TO THE KFC YUM! CENTER ON SATURDAY APRIL 1, 2023
Louisville, KY (October 24, 2022) – R&B legends, Kem and Ledisi, announce "The Soul II Soul Tour" is coming to the KFC Yum! Center on Saturday, April 1, 2023. The Grammy® Award-recognized artists will take the stage with special guest Musiq Soulchild at 8 p.m. Tickets go on sale at the KFC Yum! Center box office and ticketmaster.com on Friday, Oct. 28 at 10 a.m. and start at $63, plus additional taxes and fees. Pre-sale tickets go on sale Wednesday, Oct. 26 at 10 a.m. local time.

Three-time GRAMMY®-nominated and Multi-Platinum singer and songwriter KEM ascended from the deep grasp of addiction and homelessness on the streets of Detroit to find himself among the legendary icons etched atop Motown's marquee of music history. KEM's redemptive, hook-laden music – a deft fusion of rhythm & blues, soul, and jazz – sparkles beneath his distinctively transfixing vocals. Treasured as one of the redefining voices of contemporary music, he has been compared to renowned artists such as Sam Cooke, Otis Redding, and Marvin Gaye.

Blessed as a natural born storyteller KEM perfected his vocal gifts across an emotional palette of pain by stepping fully into his power and giving rise to the purest expressions of his truth.
Perfecting songs that would revitalize his spirit as he bounced between homeless shelters and drug rehab centers proved to be the golden thread that would guide him through the darkest valleys of despair to sobriety on his birthday in 1995 — a milestone moment where KEM's inner strength and dramatic depth propelled him toward his destined future as one of music's most important and cherished voices.

2021 Grammy winner, Ledisi is a twelve-time Grammy nominated powerhouse vocalist with a career spanning almost two decades. Since arriving on the scene in the late 1990's, she's garnered three Soul Train Music awards, an NAACP Theater Award, and six NAACP Image Award nominations. Most recently, Ledisi received two LA Alliance Ovation Award nominations one for Best Featured Actress in a Musical. Born in New Orleans and raised in Oakland, CA, Ledisi has wowed fans with her unparalleled vocals ever since she burst onto the scene. She has truly earned a place in the pantheon of the greatest singers of her generation. Ledisi is a favorite of The Obamas and a long list of icons including the late-Prince, Patti LaBelle, Smokey Robinson, Stevie Wonder, Chaka Khan and so many more. She has headlined two nationally sold-out tours, performed alongside Dave Matthews, Kelly Clarkson, Vince Gill and Maxwell as well as jazz greats Herbie Hancock and Patti Austin.

The Soul II Soul Tour is produced by North American Entertainment Group Inc., one of the leading independent promoters of entertainment tours and live events in the United States.

TICKETS: Tickets on sale starting Friday, Oct. 28 at 10 a.m. local time.
IMPORTANT EVENT INFORMATION
Show Name: "The Soul II Soul Tour" with Kem and Ledisi
Show Date/Time: 8:00 pm Saturday, April 1, 2023
Location: KFC Yum! Center | 1 Arena Plaza | Louisville, KY 40202
Ticket Prices: $256, $130, $103, $79, $63
How to Purchase Tickets: Tickets on sale beginning at 10 AM Friday, October 28, 2022 at the KFC Yum! Center box office and ticketmaster.com. The box office is currently open on Mondays, Wednesdays and Fridays from 10 am to 4 pm.