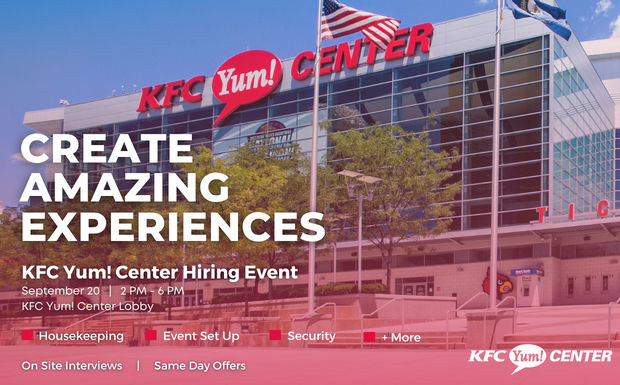 Sep 14, 2022
KFC Yum! Center Hosting Hiring Event on September 20th
View All News
September 14, 2022 (Louisville, KY) – ASM Global-managed KFC Yum! Center is looking to fill full-time and part-time positions during a hiring event in the arena lobby on Tuesday, September 20th from 2 pm to 6 pm. Positions being filled include preparing the venue, maintaining a clean and safe facility, and providing excellent customer service. Applications will be accepted on-site and online at asmglobal.com. Candidates to be given interviews and offers on-site.

What: >KFC Yum! Center Hiring Event
When: September 20, 2022 from 2 pm to 6 pm
Location: KFC Yum! Center Lobby, 1 Arena Plaza, Louisville, KY 40202
Open Positions: Housekeeping, Event Set Up, Security, Guest Services, Maintenance and more. For a complete list of job openings visit >here.

The housekeeping team members will be responsible for cleaning and maintaining the arena during sporting events, concerts and family shows. These include the University of Louisville's men's and women's basketball games and a multitude of upcoming concerts and family shows. Staff on the arena's conversion team help transition the venue between events, helping to install and remove the basketball court as well as set up staging and seating for concerts and other types of events.

Candidates interested in applying must be age 18 or older and can apply online or on-site.
Print