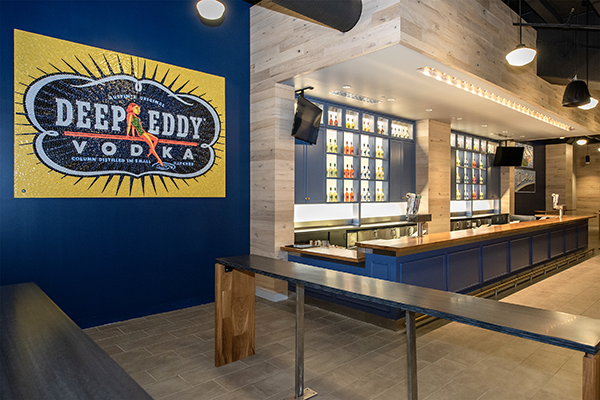 KFC Yum! Center Introduces New Food and Beverage and Improved Guest Service Tools as Basketball Returns This Season
Louisville, KY (November 14, 2022) – During this morning's Louisville Arena Authority board meeting, the KFC Yum! Center's ASM Global management team, and the venue's hospitality partner, Sodexo Live!, announced a number of exciting facility upgrades and new offerings that await fans of University of Louisville basketball games, concerts and other upcoming events this season.

Arena guests can enjoy a newly renovated bar, new hospitality concepts and improved tools to provide a better customer experience inside the arena.

One of the most noticeable changes for guests is Heaven Hill's rebranded Deep Eddy Lounge, formerly the Burnette's Lounge, that is accessible from the Club seats in the arena. The completely renovated space offers a full-service bar, stylish new furniture, and a fun and inviting atmosphere for guests to gather during events. Menus feature specialty cocktails, including the fan-favorite Cardinal Cooler, as well as Deep Eddy canned cocktails. Additionally, the newly opened Neat Bar outside of section 302 will provide guests with new premium beverage options, including bourbon flights and craft cocktails.

Several new menu items have also been added throughout the arena, including loaded mac and cheese bars and several Prairie Farms soft serve ice cream locations. Other additions to the upper concourse include a grab-and-go outpost offering quick-serve food and beverage for guests who want to make a selection and get right back to their seat, as well as a new Char Grill BBQ stand offering hearty, smoked-in-house BBQ platters and sandwiches.

Premium Box seat holders on the arena's suite level now have the opportunity to get food and drinks faster than before with online QR code ordering and in-seat delivery, not only providing more convenient service but an upgraded menu as well.

"From new dishes to added technology, these updates will give every guest who visits the KFC Yum! Center something new to look forward to," said Brian Gaskill, District Manager, Sodexo Live!. "It's all about providing a well-rounded experience and giving them the opportunity to create memorable moments while they're here."

While these new hospitality offerings will elevate the customer experience at the arena, the venue management team has implemented a new customer engagement tool, Real Time Feedback. This web-based program allows fans to scan a QR code located on signage throughout the venue to provide immediate input to arena staff that can be addressed in real time. Fans have already embraced the new technology and it has allowed management to address issues and enhance the customer experience. The program will be rolled out in additional areas of the arena over the coming weeks.

Another way the venue is improving customer service is through adding an enhanced digital navigation system that will enable blind and visually impaired patrons to navigate the venue with little to no assistance. A team from Goodmaps worked with arena staff to develop accessible indoor navigation that empowers blind or visually impaired guests to enjoy the venue on their own terms.

Finally, arena staff are working on recertification and updated training for their Sensory Inclusive Initiative with Kulture City. Guests who have sensory sensitivities or challenges can check out sensory kits, headphones and lap pads from Fan Assist and they can also take advantage of the venue's Sensory Room, located in the Main Concourse behind section 112.

Upgrades have also been made to the team store including an updated overall design of the space, added player memorabilia merchandise and a jersey press to take home custom merch.

"Our team strives to offer guests a first-class experience while attending events at the KFC Yum! Center and this season's updates have been made with our guests at the top of every decision," said ASM Global General Manager Eric Granger.

For a complete list of upcoming events, please visit nortonslc.com.

Venue Upgrade Photos for Media Use: Please download photos here.