KFC Yum! Center Renews Naming Rights Deal with Yum! Brands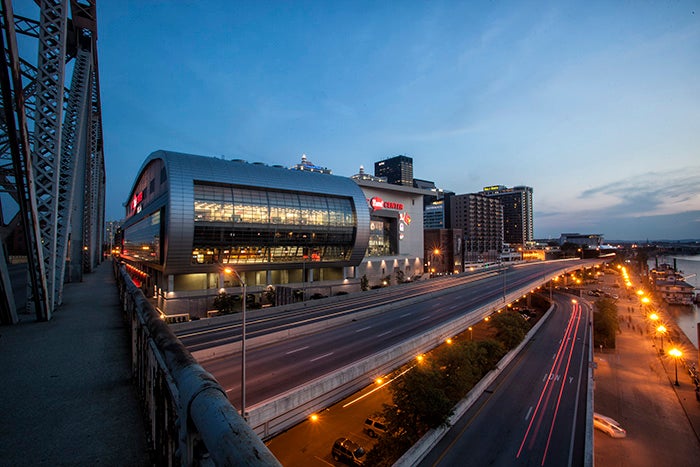 The KFC Yum! Center today announced that Louisville Arena Authority and Louisville-based Yum! Brands are extending the venue's naming rights agreement through 2031. As the founding partner to the arena and the surrounding community, Yum! Brands' reinvestment in the KFC Yum! Center allows the venue to continue providing an enhanced, world-class experience to visitors.

In exchange for its naming rights investment, Yum! Brands retains its prominent exterior signage positions overlooking the Ohio River and Main Street and on the arena roof, interior signage package, digital messaging rights, double center court suite and premium hospitality options. As the arena's naming rights partner, Yum! Brands will continue to receive prominent exposure on a national stage through brand recognition on hundreds of the nation's top performing vocal artists' websites and social media pages as well as nationally and regionally televised University of Louisville men's and women's basketball games.

As part of the 11-year agreement between Yum! Brands and Louisville Arena Authority, KFC Yum! Center guests can expect a variety of updates, including:
Updated menu options at the arena's existing Yum! Brands concession stands, which include KFC, Taco Bell and Pizza Hut.
Updated interior and exterior signage that will further modernize the visitor experience.
Additional support of initiatives, in cooperation with Louisville Arena Authority and ASM Global, that further community engagement including hosting events to promote education, health and fitness for youth and underserved populations.
"The first 10 years of this partnership allowed us to bring hundreds of world-class events to Louisville, and we are thrilled this agreement allows us to continue to nurture Louisville's rich culture of basketball, music and food for many years to come," Louisville Arena Authority Chair Leslie Geoghegan said. "We worked diligently to finalize this renewal and are pleased that a new provision focuses on community engagement, a priority for the leadership and employees of both organizations."

"Yum! Brands is proud to reaffirm our commitment to our hometown of Louisville by investing in one of the city's most visible and spectacular venues," said Scott Catlett, Yum! Brands Chief Legal and Franchise Officer. "Louisville is known for its welcoming spirit and rich culture, and we are passionate about maintaining the city's status as a world-renowned arts, sports and entertainment destination for visitors, our more than 800 local employees and their families and the customers we serve every day."

Yum! Brands has been committed to the Louisville community since 1997 when the company was first created and has contributed approximately $60 million to hundreds of local non-profit agencies and charities since then. In addition to the KFC Yum! Center, Yum! Brands and KFC recently announced plans to invest $6 million over five years to advance equity and opportunity across Louisville, particularly in the West End. This expanded investment in Louisville will target endeavors that tackle inequality and uplift Black students, educators, entrepreneurs and social change agents. Beyond the company's expanded efforts to address inequality locally, the Yum! Brands Foundation continues its long history of supporting Dare to Care Food Bank, Metro United Way and Fund for the Arts in Louisville.

"Over the past 10 years, Yum!'s investment in the KFC Yum! Center has aligned with our commitment to uplifting the Louisville community," said Jerilan Greene, Yum! Brands Global Chief Communications and Public Affairs Officer. "This renewed agreement expands on our long history of local support, and we very much look forward to finding new, exciting opportunities to leverage the arena in ways that will allow us to further contribute, give back and unlock opportunities that will benefit our fellow Louisville residents."

Since the arena opened in 2010, Louisville-based Yum! Brands' commitment to the KFC Yum! Center has enabled the venue to serve patrons at more than 120 ticketed and community events annually and become one of the nation's most successful arenas. The venue will celebrate these successes throughout their 10-year anniversary by engaging with fans online. That celebration will kick off this month on KFC Yum! Center's social media pages.

The KFC Yum! Center was one of the first arenas in the nation to partially reopen this fall by hosting the Wade Houston Tipoff Classic featuring 9 teams and 11 games with limited capacity fans. For the safety of the arena's employees and guests, arena staff have implemented VenueShield, an exclusive, globally recognized program developed in partnership with leading medical professionals and industry experts that provides enhanced safety protocols. These include increased disinfectant cleaning, temperature screenings, face covering requirements, physical distancing, additional hand sanitizer stations, digital ticketing and more.