Louisville Xtreme calls KFC Yum! Center Home!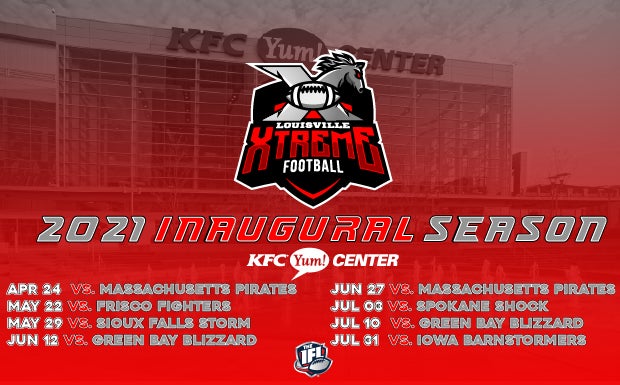 Louisville, KY (February 22, 2021) – The KFC Yum! Center and Indoor Football League's (IFL) Louisville Xtreme Football team announced partnership details at a press conference this morning. The three-year rental lease agreement between Louisville Xtreme and the venue's operator, ASM Global, includes eight home games at the KFC Yum! Center between April and August 2020.

"We are elated to be playing in the KFC Yum! Center," Louisville Xtreme Football General Manager Victor Cole said. "The KFC Yum! Center will not only give our fans the best possible indoor football experience, but also the safest way to watch games in person with their highly effective VenueShield program."

For the safety of KFC Yum! Center and team employees and guests, capacity will be limited at each game and ASM Global staff have implemented VenueShield, an exclusive, globally recognized program developed in partnership with leading medical professionals and industry experts that provides enhanced safety protocols. These include increased disinfectant cleaning, temperature screenings, mandatory face coverings, physical distancing, hand sanitizer stations, and more.

"We are so pleased that Louisville Xtreme Football team will call the KFC Yum! Center home," ASM Global General Manager Eric Granger said. "ASM Global is committed to bringing new entertainment options for the Louisville region, and Louisville Xtreme is dedicated to providing fun and engaging experiences for fans. Aligning these goals will create exciting new opportunities for our community."

Season memberships are available now for the team's home games. Individual tickets will go on sale at a later date, pending availability. This season's Louisville Xtreme Football home games include:

April 24, 2021, vs. Massachusetts Pirates
May 22, 2021, vs. Frisco Fighters
May 29, 2021, vs. Sioux Falls Storm
June 12, 2021, vs. Green Bay Blizzard
June 27, 2021, vs. Massachusetts Pirates
July 3, 2021, vs. Spokane Shock
July 10, 2021, vs. Green Bay Blizzard
July 31, 2021, vs. Iowa Barnstormers

Louisville Xtreme is a professional indoor football team based in Louisville, Ky. that is coached by Mark Stoute and led by team president Chris Redman. Tickets and partnerships are available for the upcoming 2021 season. For more information, visit louxtreme.com. You can follow the team on Facebook (@LouisvilleXtremeFootball), Twitter, and Instagram (@louxtremefb).

The Indoor Football League is America's longest continuously-running indoor football league and begins its 13th consecutive season of play in 2021. The IFL began play in 2009 following a merger between the United Indoor Football League and the Intense Football League. IFL teams will play a 16-game schedule in 2021 with each team having eight home games and eight road games. The regular season runs from April through August, with playoffs running throughout August.