Jul
7 - 9
, 2020
American Red Cross Blood Drive
Stars, Stripes & Pints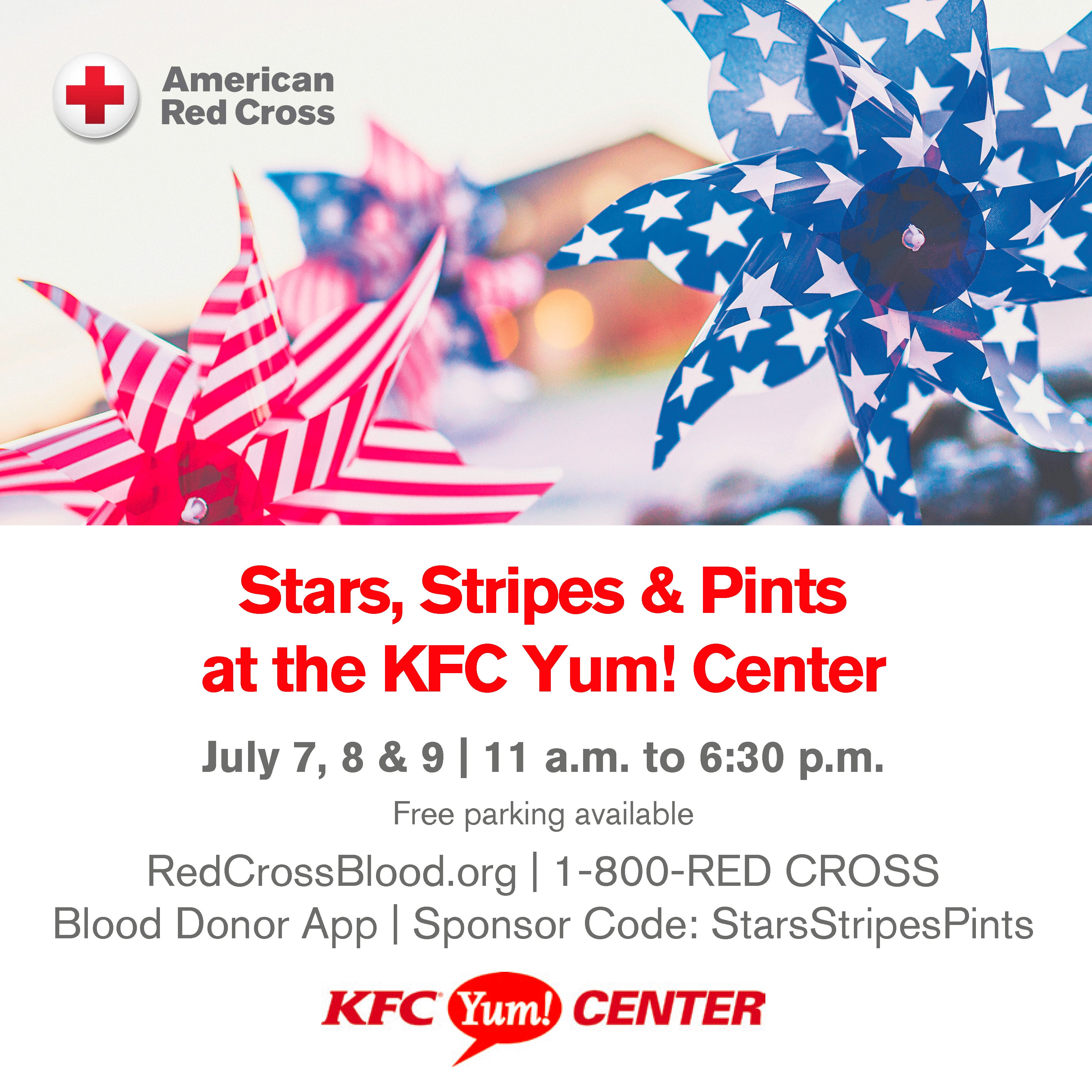 The KFC Yum! Center and the American Red Cross are partnering to host the Stars, Stripes, & Pints blood drive on Tuesday, July 7, Wednesday, July 8, and Thursday, July 9th from 11 a.m. to 6:30 p.m. at the KFC Yum! Center in Louisville.
All presenting donors will receive a Red Cross T-Shirt and one free ticket to participating U.S. Cedar Fair parks, including King's Island, while supplies last.*
Ticket valid-thru dates have been extended through the 2021 park season. Please check www.cedarfair.com/our-parks for the most current opening date and hours of operation.
The Stars, Stripes, & Pints blood drive offers added appointment slots and expanded capacity to ensure ample opportunities for donors to give. Donating blood is a safe process, and American Red Cross employees are following thorough safety protocols to help prevent the spread of any type of disease or infection. Over the past month, out of an abundance of caution, the Red Cross has put additional precautions in place at blood drives to further protect the health and safety of blood donors. Plus, all blood, platelet, and plasma donations will be tested for COVID-19 antibodies. Donors can expect to receive the results of their antibody test within 7 to 10 days of their donation through the Blood Donor App or donor portal at RedCrossBlood.org.
Individuals can schedule an appointment to give blood at the Regional One Health Blood Drive by visiting RedCrossBlood.org, using the Red Cross Blood Donor App, calling 1-800-RED-CROSS using sponsor code: StarStripesPints or enabling the Blood Donor Skill on any Alexa Echo device.
Donors are asked to make an appointment before showing us to donate in order to manage the flow of donors appropriately in alignment with social distancing practices.
Thanks to the many who gave blood and scheduled upcoming appointments over the past couple of weeks, the American Red Cross has been able to meet immediate patient needs. During this uncertain time, we encourage individuals to keep scheduled blood donation appointments and to make new blood donation appointments for the weeks ahead to ensure a stable supply throughout this pandemic. We are grateful for the continued support.
Print