May
7
, 2022
Arts, Beats + Lyrics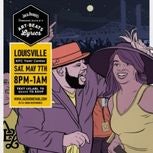 May

7

, 2022

Complimentary
Jack Daniel's Tennessee Honey and Cult Creative Announce the Return of 17th Annual Art, Beats + Lyrics Urban Art Showcase to the KFC Yum! Center in Louisville, Ky. on Saturday, May 7, 2022. While you're there, enjoy live music from Bun B, Wally Sparks, DJ Z-NYCE, DJ Larmarrous. Dres Tha Beatnik will host Art, Beats, & Lyrics.

There is no cost to attend but guests must register in advance to guarantee a ticket. Art, Beats + Lyrics, the national art and music tour presented by Jack Daniel's Tennessee Honey and curated by Cult Creative, was launched by Cult Creative in 2004 as a local art show in Atlanta. The event provides a platform to celebrate art and hip-hop culture. Returning from a small hiatus, this year's showcase invites art and culture enthusiasts to come celebrate at its pop-up exhibits for its post-pandemic program.

"Art, Beats + Lyrics merges together two things that have the unique ability to connect people of all cultures, ages, and ethnicities -- music and art, " says Fabricia da Silva, Multicultural Marketing Manager, Brown-Forman. "And, after such an unpredictable year, we all deserve a celebration that highlights strength, inspiration, and that moves the culture forward. This is the Very essence of Art, Beats + Lyrics, and we are thrilled to bring that celebration back this year."

Art, Beats + Lyrics has been historically embedded in the community, specifically uniting and providing a national platform for upcoming and seasoned veterans from both the visual art and hip-hop sphere. The 2022 tour will exclusively toast to the program's years of authentic artistry by visiting cities across the country Attendees will be invited to interact, celebrate, enjoy art from over 50 visual artists from across the country, and special musical performances from national recording artists, all while enjoying signature Jack Daniel's Tennessee Honey cocktails.
Print