May
23
, 2015
Atlanta Dream Classic
WNBA Doubleheader: Fever vs. Sun and Dream vs. Mystic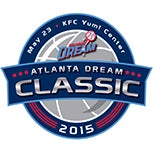 May

23

, 2015

4:00 p.m.

$105, $48, $27, $17
The Atlanta Dream will host the 2015 Atlanta Dream Classic at the KFC Yum! Center on May 23 to open its preseason schedule. The event, which will feature a doubleheader of WNBA preseason contests, will be highlighted by the return to Louisville of current Dream stars Angel McCoughtry and Shoni Schimmel. Both players earned All-American honors while leading the Cardinals to appearances in the National Championship Game.
The doubleheader, which will match the Indiana Fever vs. the Connecticut Sun at 5 p.m. ET before the Dream and Washington Mystics play at 7 p.m.
FAN FEST: Join us before the games for a FREE fan fest on the KFC Yum! Center Norton Healthcare Plaza. Featuring face painting, stilt walkers, dancers, music and more, the plaza is your playground from 3-5PM Saturday, May 23rd.
Group Sales
Group tickets available starting at $10 for groups of 15 or more. To order, call (502) 566-5152 or email us. Discount ends May 21.
Print