May
13 - 17
, 2020
Cirque Du Soleil: OVO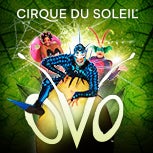 May

13 - 17

, 2020

Doors will open 1 hour prior to each event

The 2 seats on each aisle will be priced higher than the row's inside seats.

Discount Child, Student, Senior and Military tickets available. Click the "Buy Tickets" button for more details.

Prices vary by performance. Click the "Buy Tickets" button for details.
Rush Headlong into a New Ecosystem OVO is teeming with life. Insects work, play, fight and look for love in a non-stop riot of energy in motion. Their home is filled with biodiversity, beauty, action and moments of quiet emotion. The awestruck insects are intensely curious when a mysterious egg appears, representing the enigma and cycles of their lives.
Print