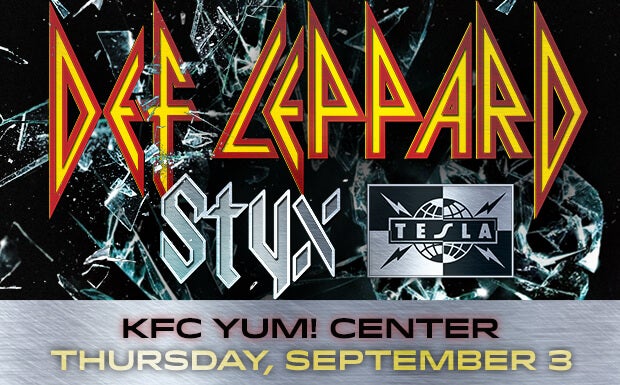 Def Leppard, Styx and Tesla
Event Details
Iconic rock band Def Leppard will perform at the KFC Yum! Center on Thursday, Sept. 3 with fellow rockers Styx and Tesla. The Louisville show will be among a few select U.S. performances following the band's Canadian and European tour in early 2015.
With 100 million records sold worldwide and two prestigious Diamond Awards to their credit, Def Leppard--Joe Elliott (vocals), Vivian Campbell (guitar), Phil Collen (guitar), Rick "Sav" Savage (bass) and Rick Allen (drums)—continues to be one of the most important forces in rock music. Over the course of their career, the band has produced a series of classic, groundbreaking albums that set the sound for generations of music fans and artists alike. The group's spectacular live shows, filled with powerful melodic rock anthems, have become synonymous with their name. For the past 30 years the band's concerts have become must-see events and have quickly made them an institution in the touring industry, as they continue to sell out arenas worldwide.
At the Louisville show, Def Leppard will play hits from their lengthy discography, including the recently reissued Slang, and may surprise fans with new music that is yet to be released. Styx and Tesla will also deliver unforgettable performances that are sure to have fans experiencing the vigor and energy that these bands have always been known for.