Nov
18
, 2016
Five Finger Death Punch and Shinedown
with special guests Sixx: A.M. and As Lions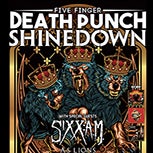 Nov

18

, 2016

5:30 PM

$60.75, $50.75, $40.75
Five Finger Death Punch and Shinedown are partnering to co-headline the biggest Fall Arena Rock Tour 2016 produced by Frank Productions/NS2/ CMoore Live — an epic trek that kicks off on October 18th, and crisscrosses North America through December, stopping in Louisville at KFC Yum! Center on Friday, November 18.
The tour is also highlighted by Special Guest SIXX:A.M. featuring vocalist/producer James Michael, bassist Nikki Sixx and guitarist Dj Ashba. UK newcomers As Lions, featuring Austin Dickinson, will round out the supporting lineup, following the tour's previous openers-turned-success stories Nothing More and From Ashes To New.
Says Five Finger Death Punch guitarist Zoltan Bathory about the tour: "I wanted to give you a brilliant quote about trying to keep rock music alive by assembling bills that can sell out arenas where everyone can have the production rock shows deserve, or bringing out new talented bands and expose them to huge crowds... or about rebuilding a community with the help of rock radio, and donating to good causes while we are at it… but we are so busy doing it that I ran out of quotes".
Shinedown has always been about sharing the undeniable power of rock music," says Shinedown frontman Brent Smith. "And performing live is where we make that connection most directly, where we can truly experience that power together with our fans in its purest form because we are literally sharing the same physical space, living in that moment as one. Five Finger Death Punch shares that passion and commitment, and, like us, leaves it all out on the stage every single night. Come experience the power of rock music with us."
Print