Dec
7
, 2019
Gaither Christmas Homecoming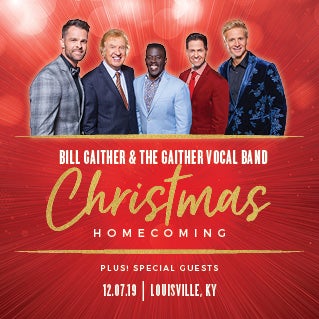 Dec

7

, 2019

4:30 PM

Senior (60+)
Children (12 & Under)
$27.50 in Reserved sections only.

$76.50, $41.50, $31.50
Multi-Grammy Award-winning recording artist, Bill Gaither will present the Gaither Christmas Homecoming at the KFC Yum! Center, on Saturday, December 7, 2019. The legendary recording artist will present an exciting celebration, filled with the very best in Christian music, including Gaither's own multi-award winning group, The Gaither Vocal Band.
The Gaither Vocal Band, featuring Gaither, Wes Hampton, Adam Crabb, Todd Suttles, and Reggie Smith, will be joined on this special night by several talented musical guests. Throughout the evening these talented performers will share timeless gospel classics, as well as refreshing, inspiring new favorites embraced by audiences of all ages and backgrounds, as well as classic Christmas standards guaranteed to ring in holiday cheer. Few events have the ability to unite individuals from all walks of life the way Gaither concerts do. "The longer I live, the more I learn to appreciate the here and now – this moment – this place in life – this group of people with whom I am privileged to collaborate," states Gaither Vocal Band founder and bass singer, Bill Gaither. Tickets go on sale Monday, August 5, 2019 at 10:00 AM
Group Sales
Groups of 10+: $25.50
Groups of 10+ receive 1 FREE ticket!
Group Ticket Information: 1-855-484-1991 or email [email protected]
Print