Jan
17
, 2016
Harlem Globetrotters "2016 World Tour"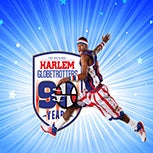 Jan

17

, 2016

$113.50, $74.50, $57.50, $48.50, $38.50, $28.50
Celebrating 90 years of providing smiles, sportsmanship and service to millions of people worldwide, the world famous Harlem Globetrotters will bring their unrivaled family show to KFC Yum! Center in Louisville on Sunday, January 17th, at 2:00 PM during their 90th Anniversary World Tour.
On the court, the Globetrotters' 90-year celebration will feature some of the greatest athletes and entertainers on the planet. With a star-studded roster featuring Big Easy Lofton, Ant Atkinson, Hi-Lite Bruton, Thunder Law, Bull Bullard and Cheese Chisholm – plus female stars TNT Maddox, Sweet J Ekworomadu – the Globetrotters' one-of-a-kind show is unrivaled in the world of family entertainment. Every game will showcase incredible ball handling wizardry, rim-rattling dunks, trick shots, hilarious comedy and unequaled fan interaction. After the game, Globetrotter stars will sign autographs and take photos with fans.
Group Sales
Group tickets are available for groups of 10 or more. To order, call (502) 566-5152 or submit this order form via email. Discount ends January 14. Click here for more information regarding group ticket offers.
Print