Postponed
Janet Jackson: Black Diamond World Tour - Postponed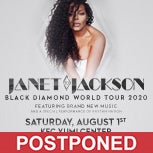 Postponed

7:00 PM

The first two seats on each aisle will be priced higher than the inside seats. Floor +$20, 100 Level +$20 or +$21, 200 Level +$11, 300 Level +$10 or +$11

$184.95, $169.95, $129.95, $99.95, $84.95, $59.95, $49.95
The Janet Jackson concert date on August 1, 2020 has been postponed. The event organizer is still trying to reschedule the event, and tickets will remain good for the rescheduled date.
We appreciate your patience during this time and ask you to hang on to your tickets.
Please note that at this time, while the event organizer is working to try and reschedule this event, and they are not currently allowing refunds; however, refunds will be made available in the future.
Print