Apr
10
, 2021
In Real Life Comedy Tour with Mike Epps
featuring: Michael Blackson, DC Young Fly, Karlous Miller, & Kountry Wayne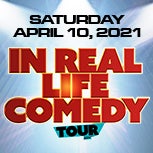 Apr

10

, 2021

5:00 PM & 9:00 PM

$130, $103, $79, $63
Mike Epps is returning to the KFC Yum! Center with the In Real Life Comedy Tour on Saturday, April 10, 2021. This show will include performances with Mike Epps, Michael Blackson, DC Young Fly, Karlous Miller, and Kountry Wayne.
Due to overwhelming demand, a second show has been added to the In Real Life Comedy Tour with Mike Epps at the KFC Yum! Center. The additional performance is scheduled for 10 p.m.
Tickets for the 10 p.m. show will go on sale on Friday, February 26 at 10 a.m.



Comedian Summaries*:
Mike Epps – Mike Epps is one of the funniest comedic actors on the Hollywood scene. He has performed in front of sold-out arena crowds worldwide but he is best known for his many acting roles, including playing Day-Day Jones in Next Friday and its sequel, Friday After Next, and also appearing in The Hangover as "Black Doug".
Michael Blackson – Michael Blackson, also known as "The African King of Comedy," has been entertaining audiences across the globe for more than a decade. Inspired by Eddie Murphy's stand-up comedy, Blackson has been touring and acting for more than three decades, including his scene-stealing performance in Next Friday.
DC Young Fly – DC Young Fly has been entertaining audiences for years as an actor and writer. He is most known for his role in Armed, My Cousin's Ghetto Wedding and #DigitalLivesMatter.
Karlous Miller – Karlous Miller is an American comedian, actor and rapper who is most widely known for being a cast member on MTV's comedy improv series, Wild 'n Out, and his notorious "Wildstyle" battles with fellow cast member, Chico Bean.
Kountry Wayne – Kountry Wayne is a standup comedian and Instagram star who became popular for creating short sketch comedic videos on his Instagram account.
Print