Mar

30

-

Apr

1

, 2014
NCAA Division I Women's Basketball Regional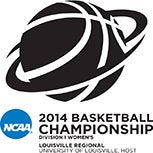 Mar

30

-

Apr

1

, 2014

$15, $10
The University of Louisville will serve as the host institution of a regional site for the 2014 NCAA Division I Women's Basketball Championship to be played March 30 and April 1, 2014 at the KFC Yum! Center. Tickets are available now. Fans may purchase tickets to the Tuesday, April 1 championship game featuring the University of Louisville vs. University of Maryland.
This will be the first time Louisville has hosted an NCAA Women's Basketball Regional. U of L has hosted the first- and second-rounds in 2013 at the KFC Yum! Center and in 2010 at Freedom Hall.
U of L and the KFC Yum! Center served as the host for the 2013 NCAA Women's Tournament first and second rounds and the 2012 Men's Basketball Championship for the second- and third-rounds. U of L hosted the 2012 NCAA Women's Volleyball Championship on December 13-15, 2012. Louisville and the KFC Yum! Center will also host the second- and third-rounds of the 2015 NCAA Men's Basketball Championship.
Louisville is one of four regional sites in 2014 which will each feature four teams competing for a spot in the 2014 Final Four held in Nashville, Tenn.
Print