Jun
17
, 2021
Sip & Savor
Bourbon & Dining Experience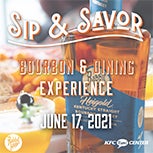 Jun

17

, 2021

6:00 PM

$125
Enjoy a one-of-a-kind bourbon and dining experience with this unique tasting event featuring the fine quality of Rabbit Hole Bourbon. Sip on an inviting cocktail in the Rabbit Hole Lounge before you savor amazing food and bourbon pairings from the KFC Yum! Center Hickman Camp room that offers stunning Ohio River views. End your evening with dessert and bourbon pairings and a behind-the-scenes tour of the KFC Yum! Center. This event will make for an unforgettable experience. Limited tickets are available so get yours now! Must be 21 or older to attend.
Rabbit Hole will also have a pop-up shop on-site for anyone wishing to go home with any of their bourbons.
Menu
Course 1
Rye: Rabbit Hole Boxergrail Kentucky Straight Rye
Sea scallop with Kentucky Benton bacon served with black tea citrus ginger butter.
Course 2
Bourbon: Rabbit Hole Cavehill Kentucky Straight Bourbon Whiskey
Kentucky Bibb lettuce with orange-glazed dried fruit, smoked goat cheese crumbles, apples with almonds, and drizzled with a bourbon mint vinaigrette
Course 3
Bourbon: Rabbit Hole Heigold Kentucky Straight Bourbon Whiskey
Seared pork belly with grilled tenderloin medallion steak with a bourbon glaze served with roasted sweet potato, sauteed swiss red chard on a bed of butternut squash puree.
Course 4
Bourbon: Rabbit Hole Dareringer Straight Bourbon Finished in PX Sherry Casks
A pecan tart, cherries and dark chocolate with caramel sauce
Print