Dec
11
, 2013
Trans-Siberian Orchestra "The Lost Christmas Eve 2013"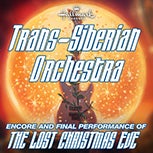 Dec

11

, 2013

6:30 PM

$34.00, $43.50, $53.50 and $63.50
Trans-Siberian Orchestra (TSO) will celebrate their first 15 years of touring with an encore and final performance of their multi-platinum rock opera, "The Lost Christmas Eve." Clear Channel Radio Louisville and Live Nation are proud to welcome TSO to Louisville for one spectacular show at the KFC Yum! Center on Wednesday, December 11 at 7:30 p.m.

TSO, whose phenomena has grown year after year, has played over 1,500 shows for more than 10 million fans in the past fifteen years, and quietly became one of the world's biggest arena rock acts. The unprecedented fan-driven growth is a testament to TSO founder Paul O'Neill's vision of "Rock Theater," the perfect amalgamation of Broadway storytelling with the spectacle of rock, delighting audiences of all ages year after year.

For one final year, audiences will get to experience the modern Charles Dickens-like classic, "The Lost Christmas Eve." Following the 2012 premiere of this acclaimed rock opera, critics were raving, calling it "…a must see for any music lover" , "…a rock 'n' roll holiday celebration worth seeing !" and an "unrivaled spectacle of sight and sound." "The Lost Christmas Eve" features a diverse soundtrack fusing elements of rock, classical, folk, R&B, and theatrical-styled music, with the story taking you on a journey into the "Capra-esque" world of TSO founder/producer, Paul O'Neill.
Group Sales
Group discounts are available by calling (502) 562-0152 or visiting "Group Discounts."
Group discount ends on December 4.
Print