Apr

28

-

May

1

, 2016
TORUK - The First Flight by Cirque du Soleil
Inspired by James Cameron's AVATAR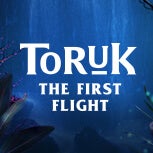 Apr

28

-

May

1

, 2016

1 hour before show time

Ticket Price varies within category by location and time purchased.
Visit ticketmaster.com to see current pricing for specific seats.
All prices subject to change.

$38-$135
TORUK – The First Flight, inspired by James Cameron's AVATAR, a live experience by Cirque du Soleil®, envisions a world beyond imagination set thousands of years before the events depicted in the film. The word Toruk, in the Na'vi language, refers to the great leonopteryx, the mighty red and orange predator that rules the Pandoran sky. Central in Na'vi lore and culture, this fascinating creature is crucial to the Na'vi clans' sense of destiny and interconnectedness – and is about to be ridden for the very first time by a Na'vi.
Dive into the world of Pandora with the TORUK – The First Flight mobile app! Discover what it's like to become part of the show, access never-seen-before backstage photos and videos, and much more. Adventure awaits!
Flash photography is strictly forbidden at this show.
Group Sales
Print