May
26
, 2016
WAVE 3 NEWS CONCERT SERIES AT THE KFC YUM! CENTER
featuring the FABGirls and the Cryers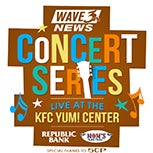 May

26

, 2016

Free and open to the public.
WAVE 3 News will present a monthly series of concerts on the KFC Yum! Center's Norton Healthcare Plaza. The free concert series continues on Thursday, May 26 with the the FABGirls from Rio de Janeiro and the Cryers from New Jersey. These artists will bring new talent and entertainment to downtown Louisville. Each month a different up-and-coming local artist will entertain patrons over their lunch hour (11:30AM – 1:00PM). A variety of popular food trucks will be onsite to offer diverse food options for purchase.
The WAVE 3 News Concert Series at the KFC Yum! Center, presented by Republic Bank, will be broadcast on WAVE 3 Listens Live! from 12:30 – 1:00PM.
Food Trucks On-site:
Long Shot Lobsta
Boo Boo Smoke Shack
Print