Oct
2
, 2021
Hot Wheels Monster Trucks Live
Event Rescheduled from March 13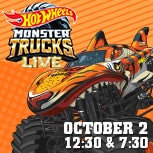 Oct

2

, 2021

10:00 AM & 5:00 PM

Kids 2-12: $11 for all price levels (Limit 3 kids per adult ticket)

$39, $35, $29
Hot Wheels Monster Trucks Live brings audiences the only opportunity to see real-life versions of the iconic Hot Wheels monster truck toys including Bone Shaker™, Tiger Shark™, V8 Bomber™, Demo Derby and Hot Wheels® Racing 1. The show will also feature the original monster truck, BIGFOOT®. In addition, the immensely popular Crash Zone Pre-Show Party is back 2 ½ hours prior to every performance.
The shows were originally scheduled for March 14, 2020; they were postponed to August 22, 2020 and again until March 13, 2021. For reasons of public health, they have been further postponed until October 2, 2021 at 12:30 pm and 7:30 pm. All tickets purchased for original and rescheduled 2020 and 2021 dates will be honored at the October 2, 2021 shows.

Group Sales
Groups of 10 or more: $23 for all price levels. Please visit the box office to purchase tickets.
Print